LIVALL Bicycle Helmet BH60 – Enhance Your Cycling Safety
The LIVALL BLING HELMET BH60 is designed to increase your cycling safety and built for you to enjoy smart riding.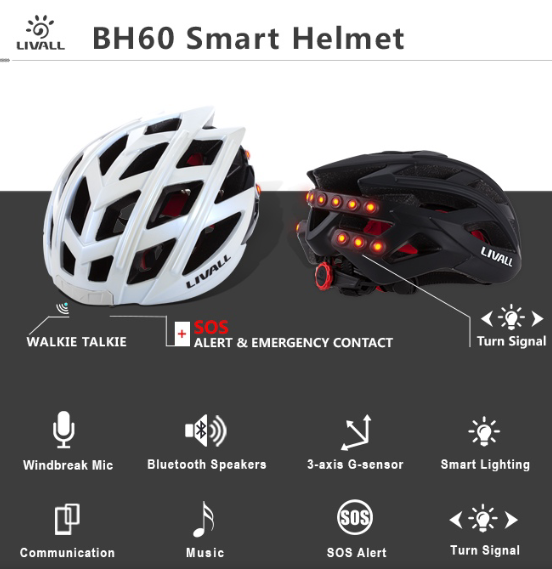 In addition to standard safety features expected of a bicycle helmet, this Smart Bicycle Helmet has these extra features:
High visibility lighting with direction signaling
Bluetooth stereo speakers
Noise cancelling microphone
Emergency SOS alert via phone
Enjoy further functionalities when the helmet is used with the accompanying software application. LIVALL Riding Application
Works with Android 4.3 or later, iOS 7.0 or later
Records riding data
Music, Walkie-Talkie and Phone Call
Photo Taking via phone
Bicycle Helmet Light Control
Product Specifications
Bluetooth BLE4.0+ HFP/HSP/A2DP
Stereo Speakers 2X0.5W
MIC -39dB microphone
Tail Lights 8 full-color LED taillights with 3 left-turn/right-turn signal lights
Three Buttons Control start up (play,pause,power off), volume + (next song), volume – (previous song)
Rechargeble Battery – 3.7V/380mAH(1.4WH), charging via Micro USB port, DC 5V/0.5A
Charging Time – Approx. 1.5hrs
Battery Life – Max.10hrs(MAX)
Standby Duration – Max.180days
Product Size – 280×220×150mm
Product Weight – 319g(±5%)
Helmet Fit – Free Size (Head circumference 54-62cm)
Certification – Passed EU and US safety tests (Certified by SGS)
1 Year Manufacturer's Warranty (Manufacturer's T&Cs apply)
LIVALL's product innovation has been recognized at many events, including:
CES 2016
Germany IFA 2015
With this helmet, you get
Head Protection

– Safeguard against head accident impacts.

Enhanced Cycling Safety

– High visibility lights to alert other road users of your presence.

Direction Signalling

– Notify other road users of your travel direction change intentions.

Entertainment On-The-Go

– Enjoy music streaming via your mobile phone to the stereo speakers.

Handsfree Calling

– Answer phone calls safely when the helmet speakers are paired via bluetooth with your mobile phone..

Improved Riding Navigation

– Pair the speakers to the GPS navigation application on your mobile phone. Easy to hear the direction instructions while your ride

Easy Group Coordination

– For cyclists riding as a convoy, the walkie talkie function helps team members to look out for each other.

Timely Emergency SOS

– Should you encounter an accident or fall, the helmet can auto-activate an emergency message, via your phone, to alert a partner of your situation.

Electric Scooter Rear Light

– If you ride an electric kick scooter, this is a practical rear light solution.
As this helmet works closely with its phone application to achieve the extra functions, it is important to determine the software compatibility with your mobile phone. Read customer reviews on the software application.